An admin is a person who has permission to add, reassign and revoke your licenses.
NOTE

You can have as many admins as you'd like however you can only have ONE license manager.
Add an Admin
You can add as many administrators to your account as you'd like:
Click on "Invite Users" while on your "Users" page in your License Manager.
Enter the new administrator's email and select "Admin" for the role you would like to assign them
Click the Send Invitation button.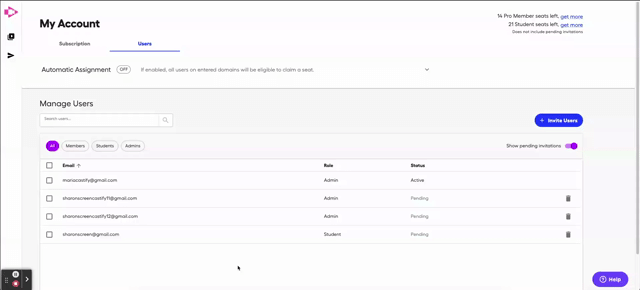 NOTE

When you add an administrator, that person will not be automatically notified.
Change a Role
You change change a user's access to make them an Admin if they are already on the list but listed as a Member
To do so:
Select the user you wish to update their role to
Once selected, click on 'Change Role'
You will then want to select 'Admin' to update their role to
Click 'Apply'. You will then see their role is updated!
You can also change an admin back to Member status if you wish to remove admin rights for any given email/user