If you have multiple licenses, you can reassign them as many times as you'd like. Additionally, you can revoke or change the role of those licenses at any time!
This comes in handy if licenses have been assigned to students who have graduated or an employee who has left your company.
Here you will learn how to:
NOTE

Your users will not be notified when their license has been assigned, revoked, or changed.
Reassign licenses
Follow these steps to reassign licenses:
Go to your License Manager
Click on the Users tab at the top of the page
Click the trash can icon next to a user's email to remove that person's license. This will free up a license that you can assign to someone else.
To reassign that license, click on 'Invite Users' and enter the new user's email in the text box under "Enter Email Address". Make sure to also select the role for that user as well.
Click 'Send Invitation'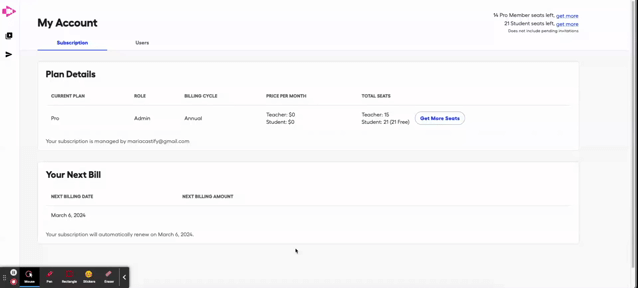 Revoke licenses
Clicking the trash can next to a user's email revokes their license.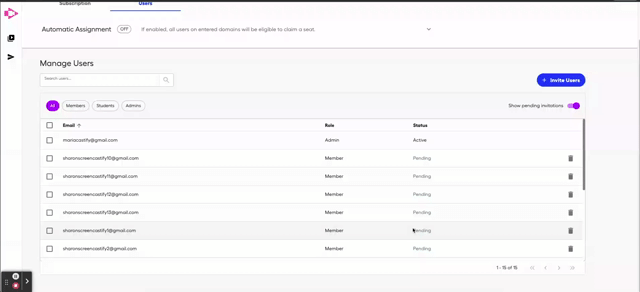 You can also bulk delete emails by clicking on the check box next to multiple users emails by clicking on the check box at the top to select all emails. If doing the latter, please ensure you de-select your own email from the top so you don't remove yourself!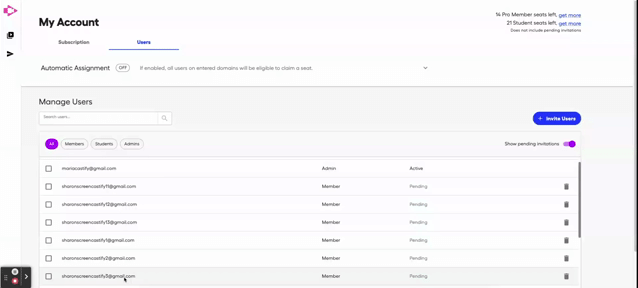 Change Role
You can easily change a user's role as well! This would come in handy if you wanted to give a member Admin access as well or if you wanted to move someone to a Student license. To change roles you can either do it individually or in bulk as shown below: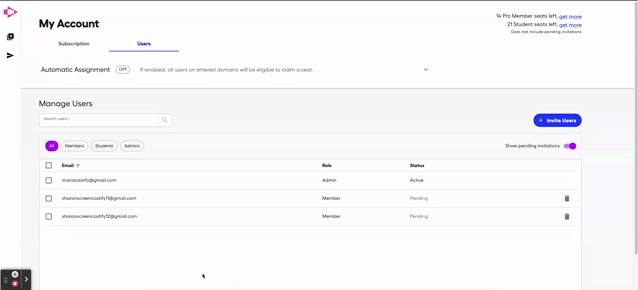 Note! When completing any bulk actions-please ensure that you de-select yourself (if you wish to remain the License Manager) so as to ensure that your role does not change. You will receive a warning like below if you do not remove yourself first: