After creating a video with the Screencastify Record extension, you will now see a section that indicates how many viewers have seen your video through the Watch Page Link. Viewer Analytics are insights into who is watching your videos from the Watch Page Link.
Clicking on this "Viewers (#)" link will open a pop-up displaying the name, email address, the day the video was most recently viewed, and the number of times this video has been viewed by this person.
At this time, what we're showing you in the Video Analytics is who opened your video's Watch Page and we're working on getting more granular analytics for you. For example, in the future, we hope to deliver functionality where you'll even be able to see what percentage of the video your viewer(s) watched! 👀
For now, the video analytics are tracking anytime a user accesses the video. This means any login or page refresh will also count as a "view."
Note: We are unable to track views when a user watches your video from a Google Drive link, when a video is downloaded, or when it is embedded.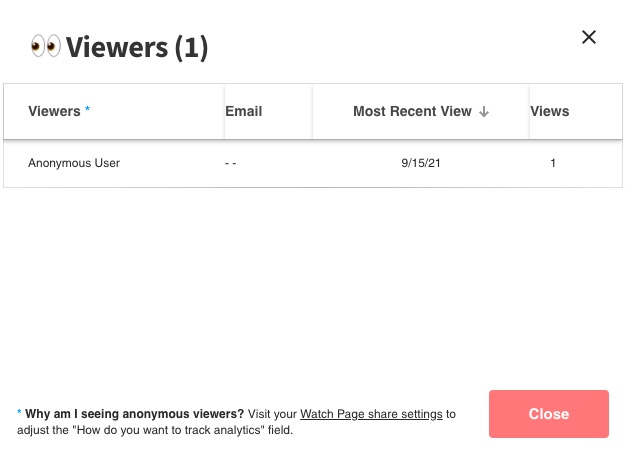 In the Viewers Detail pop-up, you will see a list of all the people who have viewed this video via your Watch Page Link.
The number in parentheses indicates how many unique viewers have signed in to view your video at least once.

The number in the "

Views

" column indicates the total number of times an individual user has signed in to view your video.

The 'Viewers' are the

unique people who have signed in or watched your video at least once.
Note: This metric counts a "view" as soon as a user accesses the Watch Page. It does not track whether the video was watched all the way through to its completion.
What's Next? 🧐