There are now two distinct sharing options that generate links for your recordings from the Video Management Page 🥳
Your video is still automatically saved to your Google Drive account, and you are still able to share a link directly to the Google Drive file. This new Watch Page does not change that - it simply redirects the viewer to a different page for viewing and gives you the additional benefit of being able to aggregate information on how your video is being viewed. 🥳
You can also still share and embed your video through the Google Drive link, although sharing the Drive link and/or using the drive link to embed a video for users to watch your video will NOT allow you to capture analytics.
In this article we will go over the link functionality and sharing permission differences between the:
Watch Page Link
What you're seeing is the updated share functionality 🥳 It links to a brand new feature: the Video Watch Page! Instead of the big blue button copying your Google Drive link like it used to, that button now copies the Watch Page URL for your video. The Watch Page provides a whole new viewing experience for your audience, whether they are students, parents, or other teachers.
More importantly, because viewing is happening on this page instead of on Google Drive, we're able to collect viewer analytics and share those important insights with you!
When you share your video, the Watch Page is the page where your users will watch your video (hence the name!)
Clicking on "Copy Share Link"

will produce a unique watch page URL that you can share anywhere you'd like! Additionally, depending on the privacy settings you have selected from the Video Watch Page, this will allow you to collect analytics data about who has seen your video, how often, and when. 🧐
Along with rolling out the new Watch Page, we've also released some new permissions that you should be aware of.
Private: Only Me - This means that the video is not viewable by other people. If you want the video only to be accessible to you, then this is the right permission. If you want to share the video, choose a different permissions setting.

Anyone with this link - This means that anyone with the link can watch the video. You'll be prompted to select how you would like to capture viewer information in the next step.

Anyone in my organization - This means that anyone with an email address that matches your private organizational domain (the part after the @ symbol) will be able to watch the video. You can add multiple domains to this section as well! This is helpful if, for example, your students have a different domain than the rest of the organization. You can add multiple allowed email domains when selecting 'Anyone in my organization'.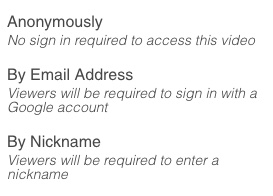 In addition to choosing a permission setting, you'll also want to determine how you will capture your viewer information. Choosing "Anyone with this link" will prompt you to select one of the following options:
Anonymously - This means that viewers will not have to sign in to access your video. This is helpful when you are sending a video for your students' parents to view. You may want to know it was viewed, but it's more important that parents can access the video and less important to know exactly who watched the video.

By Email Address - This means that users will have to sign in with their Google account to view your video. Anyone with a Google account will be able to view your video, and you will be able to see exactly who watched your video in your analytics!

By Nickname - This means that your viewer will be prompted to enter a "nickname" in order to watch your video. This allows you to gather meaningful but anonymous data on who watched your video.
Here's a quick walkthrough of the various sharing permissions for the Watch Page: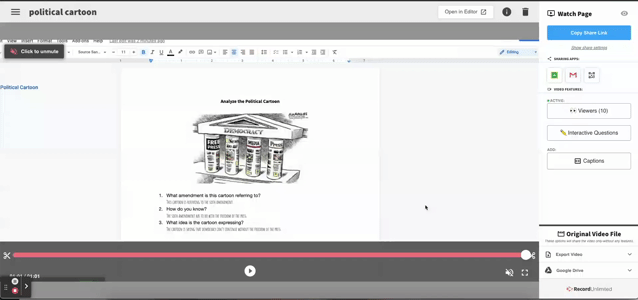 Google Drive Link
Once you have finished recording, you can select the "Google Drive" button in the lower right hand menu of your Video Management Page:



Next you will want to select the privacy settings:
When you press the "Copy Drive Link" button, the privacy setting for your video is automatically updated to unlisted. If you prefer a different privacy setting, simply click on the 'Private Settings'
button to view all your options:



Once clicked, you can view your personal domains' options: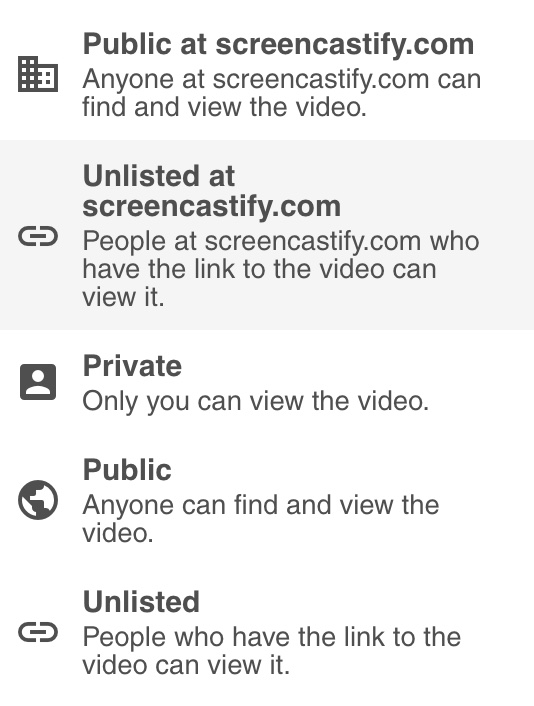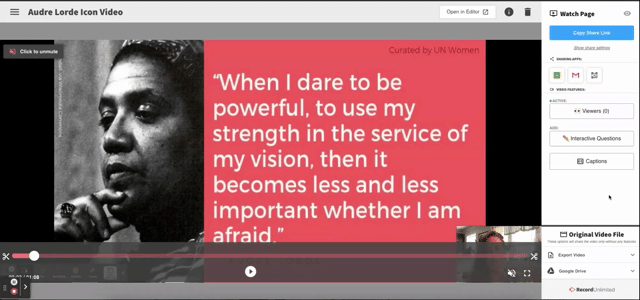 Once you have selected your settings you will want to click on the 'Copy Drive Link' button:



Now your shareable Google Drive link to your recording will automatically be copied to your clipboard and ready to paste to share to wherever or whomever you'd like!
What's Next? 🧐