To create interactive questions for your video, you will want to first be on the Video Management Page for the video you wish to create them for! Then follow the steps here to complete that question creation:
You will see a

button

labeled 'Interactive Questions' under 'Video Features'. Click on this

button

and it will then launch you on

to the interactive questions page.

Once the interactive question page is launched you can begin creating your questions! You can click anywhere on the timeline of the video to place your question. Click on the blue button 'Add Question' above the timeline to add your question.

The question box will pop u

p for you to edit. You can add up to 4 different answer options (you can also add only two i.e. True or False if you'd like). Each answer must be 25 characters or fewer. You must also select which answer is the correct answer by clicking the circle next to the correct answer.

Once your question is complete, hit 'Save'. You will then see a grey circle marker appear on the timeline (🔘 ), this indicates that your interactive question is saved and this is where it will appear in your video!
Here's a quick walkthrough of that process: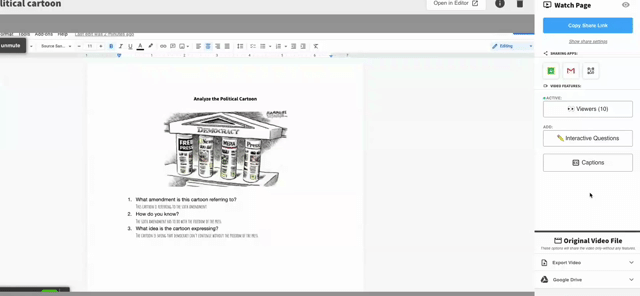 What's Next? 🧐