The Screencastify extension is very simple to navigate. There are four places within the extension that you'll become familiar with:
Recording Control Panel
The Recording Control Panel is the first thing that pops up whenever you open the Screencastify extension. From the Recording Control Panel, you can choose your screencast settings and record your browser tab, entire desktop, or webcam. Click here to learn how to record with Screencastify.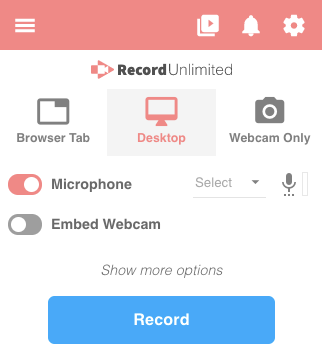 Main Menu
You can access the Main Menu by clicking the

icon in the Recording Control Panel. From the Main Menu, you can access:
My Recordings: View all of your recordings
My Subscription: Manage your account
Options: Customize your settings
Editor: Edit your recordings
Submit: Create student assignments
Classroom Resources: Access our Resource Hub
Help: Ask questions and receive support
Switch Account: Change which account you use
Sign Out: Log out of Screencastify
Video Management Page

The Video Management Page automatically loads after you end a recording. From the Video Management Page, you can:
Playback the recording
Share a watch page link
See your video(s) viewers 👀
Create interactive questions for your recording
Generate Captions for your recording (if your district is opted in for captions).
My Recordings
Your "My Recordings" page is a library where you can view all of your videos. To access "My Recordings," click the

icon in the top right-hand corner of the Recording Control Panel or click "My Recordings" in the Main Menu.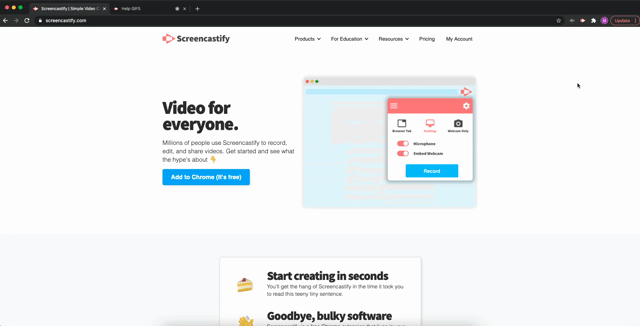 From "My Recordings," you can:
View the Video Management Page for each of your recordings
Delete your recordings (individually or all at once)
View your recordings directly in your Google Drive
NOTE

When you delete a Screencastify recording from your My Recording's folder, the recording will also be deleted from your "Screencastify" folder in your Google Drive.
What's Next? 🧐
Learn about the three different ways to record: