Screencastify allows you to easily embed your webcam into a tab or desktop recording of your entire screen. This enables you to add a personal touch to your recordings by showing your audience the "face behind the screen".
Note: Application window recordings are not supported with an embedded webcam. Please choose "Your Entire Screen" in order to use an embedded webcam with your desktop recordings!
Embed your webcam
Click on the Screencastify extension icon to open the Recording Control Panel
Select either the Browser Tab or Desktop recording option
Enable Embed Webcam and select your camera (Not seeing your webcam? Click here for troubleshooting help)
Start a recording. You'll then see your webcam appear on the screen.
TIP: Once you start a recording with your webcam embedded, you can drag it anywhere in your tab during the recording or resize it by dragging the corner of the webcam preview.
Toggle your webcam on and off during a tab recording
You can turn your webcam on and off throughout your recording as much as you like.
Simply click the
icon in your annotation toolbar to toggle your webcam on and off during your recording. Note that your recording must begin with the embedded webcam and/or microphone turned on for this icon to appear in the annotation toolbar.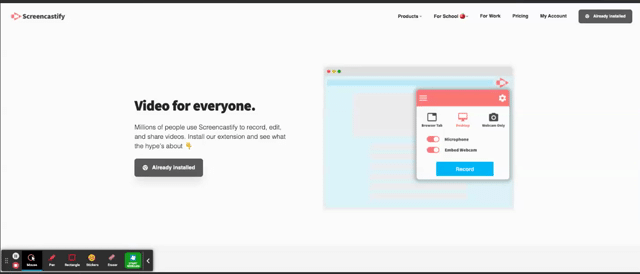 Prefer to see this all in a video with best practices? We're partial to video, too! 😊 Check out the whole process on the Screencastify Help YouTube page
What's Next? 🧐