By default, Submit assignments accept submissions forever. If you no longer want anyone to be able to submit videos, you can choose to "close" that assignment.
Close an Assignment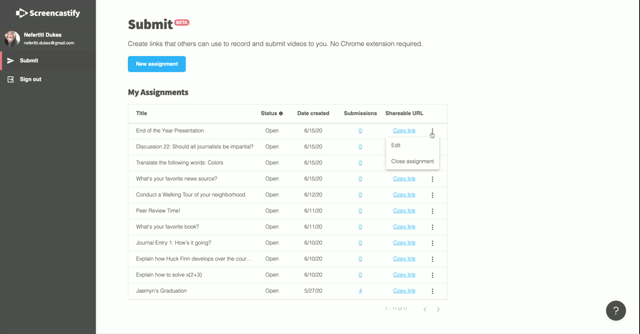 Find the assignment you want to close in the "My Assignments" table
Click the more options icon ( ⠇)
Choose "Close assignment"
Check out the whole process on our Screencastify Help YouTube page:
Anyone who visits an assignment that is closed will see an "Assignment not found" message and will be prevented from recording a video. You can always re-open an assignment by following the same steps above but choosing "Reopen" instead of "Close".
NOTE If you don't want to see closed assignments in the My Assignments table you can always sort the table by "Status" so that closed assignments sink to the bottom of the table.
Reopen an Assignment
When you close an assignment, it's not closed forever - you can always reopen the assignment! Check out the process on our YouTube Help page here: