Once you've signed into your Submit Dashboard and created an assignment, you can share the link with your students. The assignment link directs students to a page where they can create and submit their recordings.
There are a few ways to get the assignment link to your students:
Copy the Shareable Link
On the last step of the assignment creation process ("Your assignment is live 🎉"), click the "Copy" button.
Once you have copied the link to your clipboard, you can paste it anywhere you'd like. (The "clipboard" is a special location in your computer's memory that temporarily stores cut or copied data from anywhere. The clipboard holds its information until you cut or copy something else, or log out of the computer.)
Students can click that link to access your instructions and submit a recording.
If you want to copy the shareable link for an assignment that you have already created, find that assignment in the My Assignments table on your dashboard and click its "Copy link" button.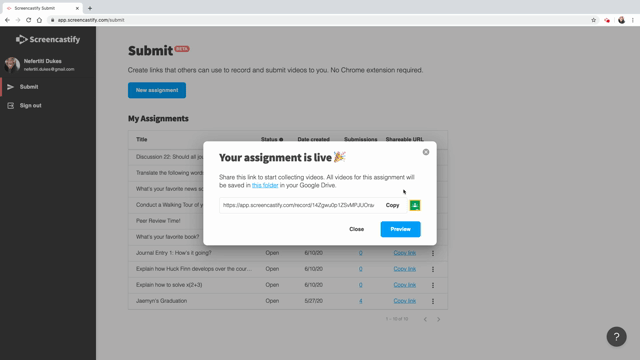 Share to Google Classroom using a Classic Submit Link
You can also share the link to the assignment directly within Google Classroom.
Share directly within Google Classroom
You can also create and share the assignment directly within Google Classroom. See how to Share a Google Classroom Submit Assignment for more information.
What's Next? 🧐
Check out helpful ways to: