On your 'My Videos' page, you may see that you have reached the video limit set on your account. The free Screencastify plan allows you to record 30-minute videos with a set video limit.
What if I reach my video limit?
After you have reached your video limit, you will need to either delete videos to create more room or upgrade your Screencastify account.
Summary of limits on your free account
Set video limit (# of videos within your My Videos)

Watermark on Youtube export

Blocked mp4 and mp3 exports

Limited viewer analytics - preview first 3 viewers
Video Limit Countdown
There is a video counter element in the extension pop-up, Video Management Page, and My Videos.
In this article you will learn how to:
Delete videos from your My Videos page
If you're not quite ready to upgrade but wish to keep making videos, you can delete some from your My Videos library to make room! You can export these videos before deleting them as well if you'd like to save them. Here's how to delete videos from your 'My Videos' page:
Go to your 'My Videos' page
Click the 3 dots on the lower right hand corner of the video you wish to delete
Click 'Delete'
You will then be asked to confirm if you wish to continue deleting this video. Either select 'Never mind' or 'Yes, Delete'. Remember that deleting the video from your 'My Videos' page will also delete the video from your Google Drive, this can not be undone so if you wish to save this video before deleting-please export it first! 😺
Here's a quick walkthrough of this process: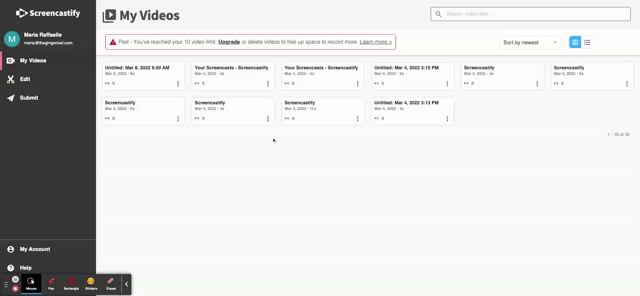 Upgrade your Subscription
If you'd like to continue making videos but don't wish to delete any ones you've made then you can upgrade your subscription to Screencastify Unlimited! Unlimited will allow you to create as many videos as you'd like at any length. 🥳 You can check out our pricing page here to select the type of subscription you'd like!