At this time, the ability to rotate your video within the editor is not supported. We understand that being able to rotate your video from landscape to portrait & vice versa within the editor would greatly enhance your experience with Screencastify. 🖥

Our engineering and product teams would love to hear your feedback on this feature and how that would make your experience with us that much better! 😺 If you'd like, please fill out this form to give our teams a little more insight.
Additionally, rotating your video while recording is not supported at this time. Though you can check out this article for some ideas on how to customize your video settings prior to recording.
Here's a workaround to rotate your video
If you need to rotate your video you can utilize a free video rotator like this one. Once you rotate and download the new video, you should be able to add it to our editor. Here's a quick walkthrough of using the video rotator: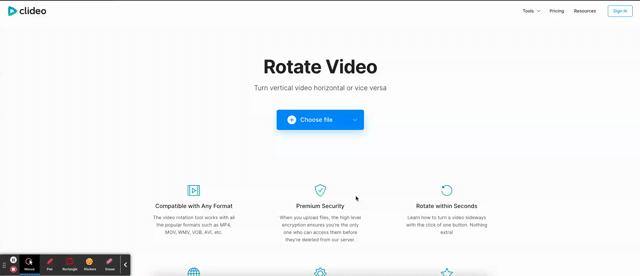 Copy and paste https://clideo.com/rotate-video into your browser tab
Once on this page, you will want to select 'Choose file'
From there, you will be prompted to select a file from either your Google Drive or Dropbox. You will likely want to select your video from Google Drive 😺
Once you select 'Google Drive', a pop up window will ask you to select the email you wish to connect to. Make sure you are using the same email address associated with Screencastify if you are wanting to retrieve a video from that account.
You will be asked to grant access, click 'Allow'
You will then be asked to select which video you would like to upload from your Google Drive to rotate. Once you've located the video, select it and then click 'Select'
Your video will be loaded into the rotation editor! On the right hand side, you will see two partial circles with arrows on the end. You will utilize these to rotate your video to your desired orientation 🥳
Once your video is rotated as you'd like, click on 'Export'
You can then download your video to Google Drive Make sure you select the same account that is associated with your Screencastify account!
Once the download is complete a green banner will appear at the top:
You can then import this video into the editor to complete any further edits you'd like ⭐️
What's Next? 🧐