With Screencastify app integrations you can easily use Screencastify Record, Edit, or Submit alongside your other favorite platforms! You can integrate Screencastify with:
Connecting Screencastify With Google Drive
To connect Screencastify with Google Drive click on the Screencastify icon (
) which will open the Screencastify Setup page.
Click on the blue "Sign in with Google" button.

You can sign in with

any

Google-based account. (If you are signed into your browser with multiple accounts please choose the one you would like to sync with Screencastify.)

Choose the Google Account you wish to use. If you are not already signed into your browser you will need to enter your password. Your password will be the same password used for that specific email address.
Click on the blue 'Allow' button

to allow access to your Google Drive files and folders so we can add your Screencastify videos directly to your Google Drive.
Agree with our

Terms

and

Privacy Policy and let us know if you would like to receive occasional emails with features and updates.
Tell us a bit about yourself:

Are you a student, teacher, administrator, business professional, or none of the above?
If you are a teacher, which grade level(s) do you teach?
Are you 13 or older or under 13? You will want to follow how to connect to drive here:

NOTE:

To update your survey responses in the future, please head to

https://app.screencastify.com/survey. Here's a quick video walkthrough.
Once your video has been uploaded to YouTube you'll see a success message. You can grab the link from that message to share with your audience.
NOTE

If you delete a recording in your 'Screencastify' folder in drive, the video management page or your "My Recording's" folder - that you have already published to YouTube it will not be deleted from YouTube as well.
Connecting Screencastify Submit with Google Classroom
In order to use the Google Classroom Submit Integration you will need to give permission for Screencastify to connect to your Google Classroom.
You'll find your integrations tab on your Account dashboard: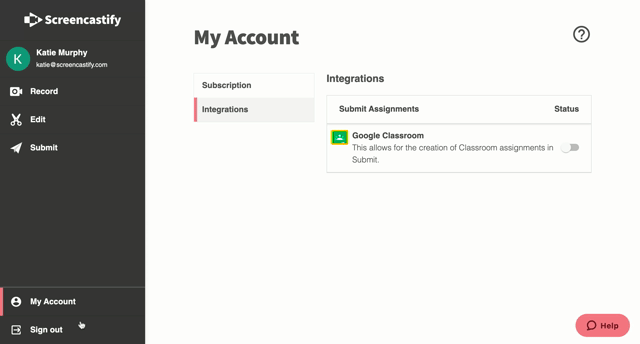 Navigate to the Integrations tab and click on the button to turn on the integration.
Once you click that button a Google popup will ask you to choose which Google account you want to sync with Screencastify:
Then you will be asked to give permission for Screencastify to access your Google Classroom: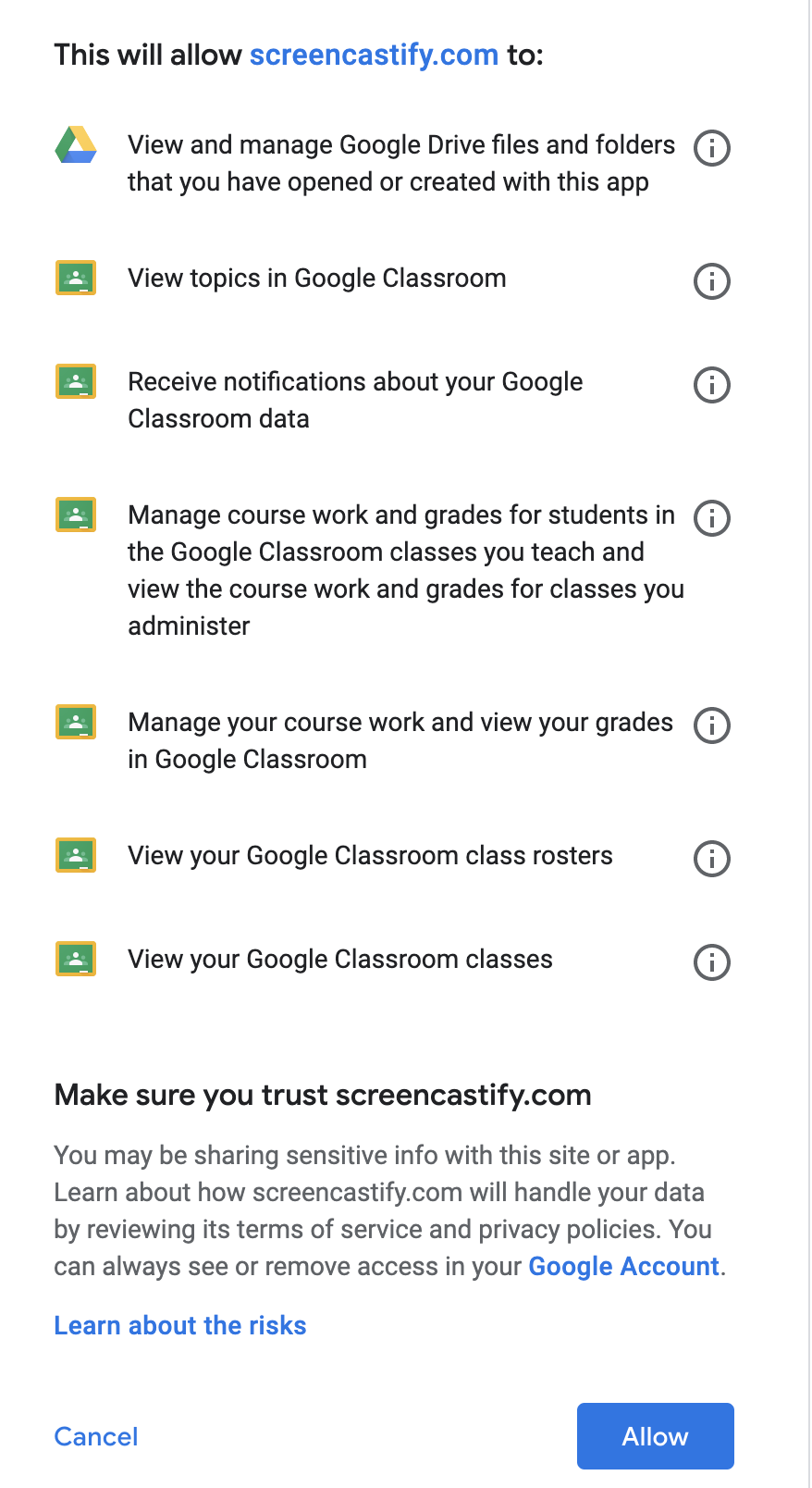 NOTE

To learn more about turning the Screencastify and Google Classroom integration on and off check out Integrations: Turning on and off your Screencastify integration with Google Classroom.
To begin using Screencastify with Submit create a Submit assignment and upload it to Google Classroom. For more about uploading and receiving Submit videos through Google Classroom check out Use Submit with Google Classroom.
Connecting Screencastify with Google Classroom
From the Video Management Page select "Share to Classroom"


You'll then be taken to Google Classroom where you will choose which class you'd like the video to be shared to and can decide how you'd like to share the video in a few different ways:

As part of an assignment
To ask a question
To make an announcement
Or to create course material
To create an assignment out of a recording you are sharing to Classroom you will want to click on the "Create assignment" option in the drop down menu.
For more information about uploading your recordings to Google Classroom check out Share a recording to Google Classroom!
What's Next? 🧐