Once you've accessed your Submit assignment, it's time to submit your video!
Submit a Classic Assignment
After you have reviewed your video (and decided you love it), you can click the blue button that says "Submit." Now, your video is turned in to your teacher's Google Drive folder ✅ .
Note: You can always redo a recording.
Now, you'll see a few options:
Download video. You'll use this option to upload your video to places like YouTube or your Learning Management System.
Share your video to Google Classroom. If your teacher would like you to post your video to Google Classroom, you can select this option.
View other submissions. If your teacher has allowed you to see your classmate's videos, you can click on this option to take a look on Google Drive.
Note: If you are not seeing one of the options above, it's likely because of the assignment settings your teacher has chosen. No need to worry 😊 !
Submit a Google Classroom Integrated Assignment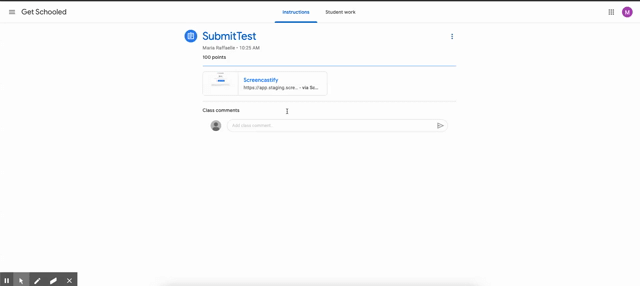 Once you've accessed your Submit assignment, it's time to submit your video! When you click on the assignment you will be taken to a new screen that will ask you to sign in with your Google account. Make sure you select the correct email if you have multiple to choose from 😺

After you've signed in, you'll see the 'Record' button pop up along with the title of the assignment.

Click 'Record'🥳

After you're done, press 'Stop Recording'

You will be given the option to watch your video to see if you'd like to start over or you can click 'Submit'. 🤩 Note: You can always redo a recording.

Once your video is successfully submitted, you'll see 'Great Work'!

Your assignment is complete and was successfully turned in 🥳
What's Next? 🧐