If you are using a school-issued computer, you may be blocked by a security setting imposed by the school. Here are some things to try:
Your Chrome Browser is Blocking Third-Party Cookies
Please follow these steps to allow 3rd party cookies:
Copy and paste chrome://settings/cookies into a new tab
Under General settings, click "Allow all cookies"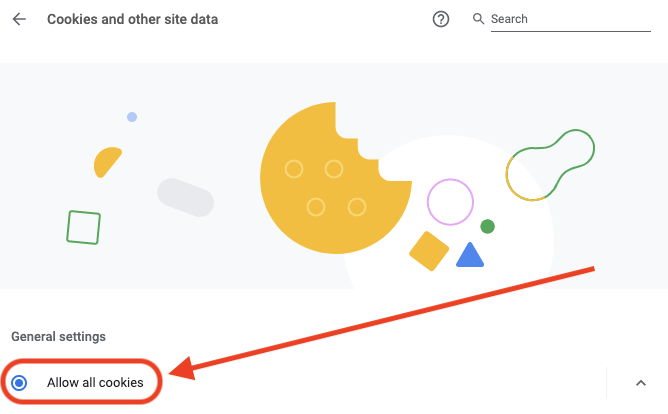 Using Multiple Google Accounts
Are you using more than one Google account in your browser? This might limit your ability to create a subfolder for Screencastify Submit. Sign out from all but one account in which your Submit folders should be created. To do this:
On your device, go to a browser where you're signed in, like Chrome.
Go to myaccount.google.com.
In the top right, select your profile picture or initial.
Select Sign out or Sign out of all accounts.
Select Remove an account.
Next to an account, select Remove .
Clear Browser Cache and Cookies
On your computer, open Chrome.
At the top right, click More .
Click More tools Clear browsing data.
At the top, choose a time range. To delete everything, select All time.
Next to "Cookies and other site data" and "Cached images and files," check the boxes.
Click Clear data.
Learn how to change more cookie settings in Chrome. For example, you can delete cookies for a specific site.
If none of those options work, please reach out to your Google Admin team and ask them to allowlist Screencastify so that you are able to use it.
Here's some more information
.
What's Next? 🧐
Once you are able to create your assignment: