You can add text to any clip imported into the Screencastify Editor. This comes in handy if you want to add a title to your video, create quick notes, clarify/correct something, and more. Here's a quick walkthrough on how to:
Adding text to a clip
To add text in the editor:
Use your mouse to click on the clip where you would like the text overlay to be added.
Click the text icon ().
Type the text you'd like to add.
If you'd like, you can move the text box anywhere on your screen! Click and drag anywhere on the dashed lines to move and place the text where you'd like!
Click 'Done' to finish with that text edit 🤩
Note: Please make sure that your text only contains English letters and characters. W

e are actively working to support more languages and formats, though at this time can only guarantee rendering/displaying English characters upon export.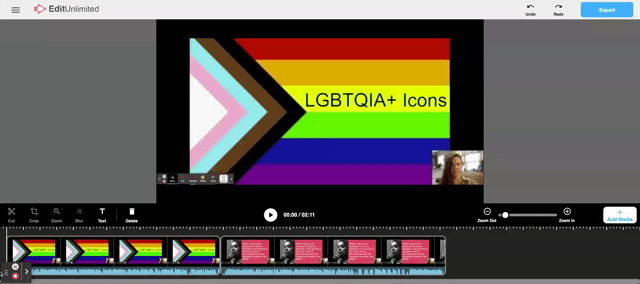 Changing your text attributes:
To edit the attributes of the text you add, you can use our text toolbar: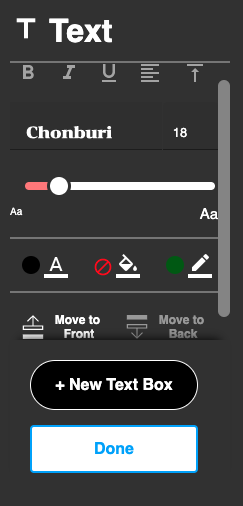 With the toolbar, you can:
| | |
| --- | --- |
| | bold text |
| | italicize text |
| | underline text |
| | change the text color |
| | change the background color |
| | add a border around your text box |
| | change the font type |
| | change the text size |
| | change the text's horizontal alignment (left-aligned, center-aligned, or right-aligned) |
| | change a text overlay's vertical alignment (top of the screen, middle of the screen, or bottom of the screen). |
| | add multiple text boxes |
| | Move to front will allow you to select a text box and move it in front of another text box to edit and manage layers |
| | Move to back will allow you to select a text box and move it behind of another text box to edit and manage layers |
Here are some text attribute variations in action: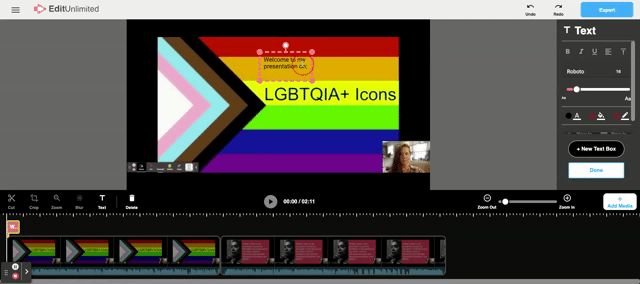 Note: The attributes you select for one text box will be saved as the default for the rest of the new text boxes you create. You can always change the attributes for each new text box as you'd like though as shown here:


Changing the timing of text overlay:
You can change the position of the text clip by clicking and dragging either side of the pink text clip on the Editor's timeline. You can also elongate the time that the text clip shows in your video by dragging the sliders on the left or right of your text clip: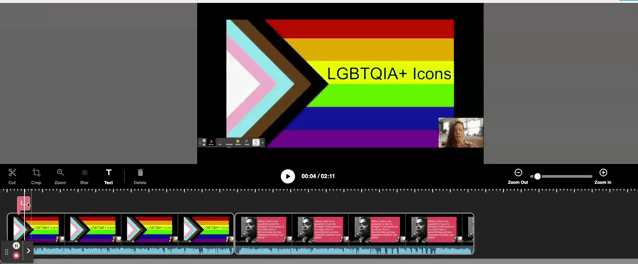 Prefer to see this all in a video? We're partial to video, too! 😁 Check out the whole process on the Screencastify Help YouTube page:
What's Next? 🧐
Now that you can access the Screencastify Editor, the next steps include: