If you're receiving or seeing a 'token' message, there could be a couple of reasons why! Here are a couple of troubleshooting steps to try and get this sorted 🥳
Clear Cache and Cookies
Sometimes you will receive the token error if your browser is unable to create a secure cookie. This can oftentimes be solved by clearing your cache and cookies! Here's how:
Copy and paste

chrome://settings/clearBrowserData

into a Chrome tab

You will be brought to a pop up screen that looks like this
Make sure all 3 boxes are checked and that the time range is set to 'All time' as shown
Click 'Clear data'
Here's a quick walkthrough!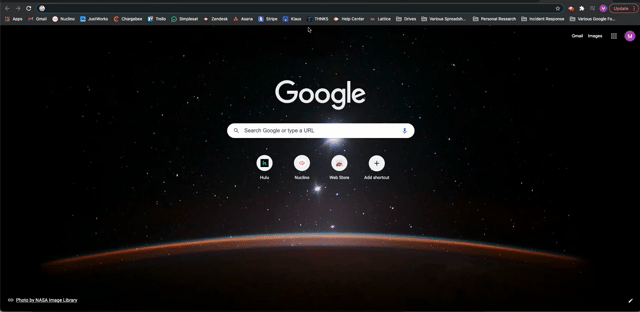 Note: Doing this will sign you out of most sites, so you may need to log back into your frequently used accounts like Gmail!
Perform a Hard Refresh
Other times, the token error could just mean that there was a slight 'hiccup' in your computer while attempting to connect with the extension. Often, going back and trying again does the trick but if not you can perform a hard refresh on your computer!
To hard refresh Chrome on

Windows: Hold down Ctrl and press the reload button or F5
To hard refresh Chrome on

Mac: Hold down Shift and press the reload button, or hold down Command, Shift, and press the 'R' key

Note:

A

hard refresh

clears your browser cache for a specific page only, which forces it to load the most recent version of that page.
If you've done all of these and are still running into this error, please submit a support ticket here! Make sure to include any screenshots of where this error is occurring if you're able to do so 🤩
What's Next? 🧐
Alternatively, if you've tried the above with no luck, you may want to check out these other articles to see if they may help: