On April 24, 2023, we will be deprecating our support for local, in-browser video storage, and your videos will no longer be accessible on the My Recordings page. If you want to keep those videos, you must download them to your device or save them to Google Drive before April 24, 2023.
Download your videos
To download your videos, please follow the steps below with each video you'd like to download:
From your My Recordings page, open a video 
Scroll down on the right side of the Video Management Page and click "Export Video" 
Choose "Download File"

Your recording will automatically begin downloading as a .webm file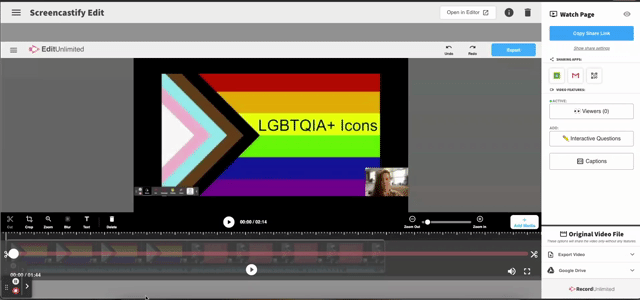 Save your videos to Google Drive
Recommended if: You have enough room in your Google Drive. Otherwise, please download your videos instead.

Note: If you are on the free plan and you have saved 10+ videos, you will see a message on the My Videos page indicating that you've reached your 10 video limit. You will need to delete videos or upgrade to continue recording. Please see this article for more information about our free plan limits. 
To save your videos to Google Drive, please enable autosave by following the steps below. Please note that enabling autosave on one video will move all of the videos on your My Recordings page to Google Drive.  
From your My Recordings page, open one of your videos
Click the blue "Enable autosave" button at the top right
Under "Where should we save your videos?" select "Google Drive"
Click the 3 horizontal lines at the top left and select "My Videos" 
The My Videos page will open and you should see your videos appear there. You will also see these videos appear in your Google Drive's Screencastify folder